Enec, Transco sign power supply deal for UAE grid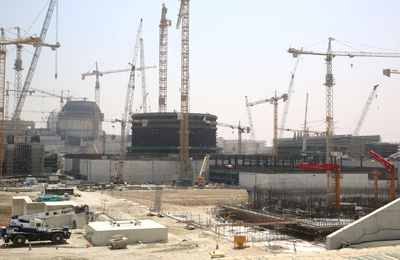 The Emirates Nuclear Energy Corporation (Enec) has signed a connection and interface agreement (C&IA) with the Abu Dhabi Transmission & Despatch Company (Transco).

The agreement establishes a contractual operating framework between the two entities that will allow for the electricity generated from Enec's four nuclear energy units located in Barakah to be transmitted over Transco's power lines to the UAE grid.

The official contract was signed at Transco's offices in Abu Dhabi by Mohamed Al Hammadi, Enec CEO, and Mohammed Bin Jarsh, Transco acting managing director.

"This is a pivotal agreement and the result of hard work and a close collaboration between Enec and Transco," said Al Hammadi. "Close working partnerships and relationships with our stakeholders are vital components for the success of Enec's programme and for the organisation to continue to deliver each milestone of the UAE peaceful nuclear energy program, safely and to the highest international standards of quality. Thanks to Transco's singular expertise, we are progressing efficiently and in a focused manner and have been able to sign the C&IA agreement that will allow for the nuclear energy plants in Barakah to safely supply the UAE with clean, reliable and sustainable electricity to power the nation."

Bin Jarsh said: "We are pleased to support Enec in what is a strategically important development for the United Arab Emirates. Finalising the agreement is a milestone event that signifies the commitment of Transco to this project and its objectives."

The signing of this agreement allows ENEC to prepare for the energisation of the switchyard, which is an important milestone for the UAE peaceful nuclear energy programme and the delivery of the four nuclear energy reactors. The energisation of an electrical infrastructure is a safety test performed under the supervision of qualified experts to examine new electric equipment and verify its conformity to the regulatory requirements. This important phase allows the equipment to be energised and for testing to be performed. Once the equipment is deemed satisfactory for normal service, the equipment is turned over to the system operator for normal service.

Enec continues to progress safely and to the highest standards of quality in the delivery of the four nuclear energy units in Barakah. Unit 1 is now over 84 per cent complete, Unit 2 is 64 per cent, Unit 3 is 41 per cent and Unit 4 25 per cent. All four units and the associated subsidiary buildings are now over 58 per cent complete and, pending regulatory approval, the four nuclear energy units are scheduled to be operative in 2020, the statement said.