Redesigned containers installation
Our company supplies portable modules and upgraded 10, 20, 40 foot containers to the customer's specifications. If necessary modules and containers can be completed with electric mains, heating and ventilation as well as fire detection system. Upgraded containers and modular structures are heavy-duty, rigid and impact resistant units, which allows to repeatedly transport them and reinstall, even on unprepared sites. Thus, these structures are maximally adapted to operate on construction and installation sites with constant movement of goods and machinery traffic.
Office port cabins
Modular type residential units
Modular type workshops and storage
Control rooms and marine switch rooms
Marine accommodation blocks
Mobile shower and lavatory modules
Isocontainers
Equipment covers
Office port cabins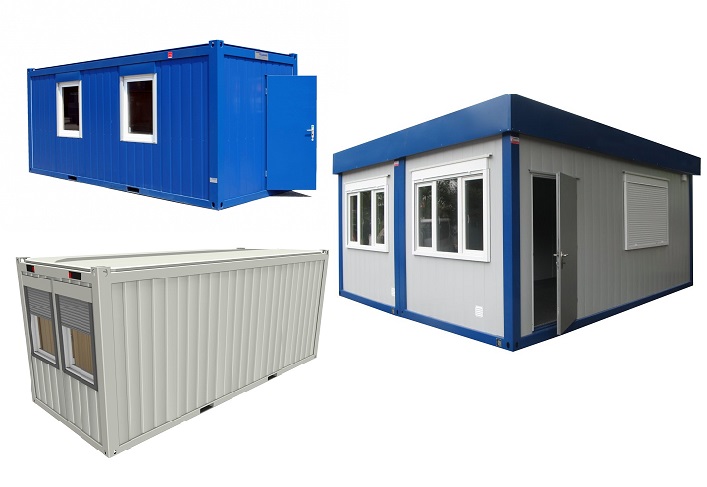 Unrivalled experience and the widest product range and cost effective prices make TechnoHub  the automatic choice when you need to hire portable cabins. No matter whether you need a single portable office or a range of facilities for a workforce of thousands on a major project our nationwide hire centres provide instant availability on thousands of portable accommodation.
Our portable cabin range includes:
Steelclad® – a stylish traditional jackleg cabin with easy clean Plastisol exterior
Rugged Elliott Anti-Vandal steel range to protect your property against theft and vandalism
Energy saving Elliott Eco-Cabins that provide power savings of up to 69% and water savings of up to 91% compared to a traditional Anti-Vandal cabin
Moduflex flexible design buildings with external wall panels that are easily changed dependant on your individual requirements
TechnoHub provides portable cabins can be linked together to form an office complex with connecting doorways and double stacked to create an upper storey which can also be linked together.
For the most flexible option that creates open spaces and integral designs we recommend our Moduflex range.
Modular type residential units
Modular type workshops and storage
Control rooms and marine switch rooms
Marine accommodation blocks
Mobile shower and lavatory modules
Isocontainers
Equipment covers