In close collaboration with Koncar Group of companies we make deliveries of industrial current and voltage transformers for various projects of petrochemical, ship-building industries, pump and compressor stations, and power blocks for underground mines.
Koncar transformers are manufactured in accordance with current international standards like GOST, IEC, etc. The equipment quality is ensured by ISO 9001 covering all aspects of design, manufacture and testing. Transformers are designed for at least 50 years of service life proving the endurance and reliability of the equipment.
Distribution transformers
Medium powered transformers
Oil-filled transformers
Dry-type transformers
Grounding transformers
Rectifier transformer
Distribution transformers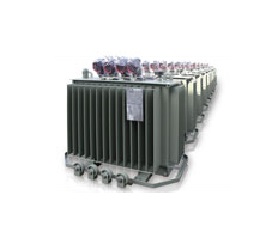 The distribution transformer is used for the distribution of electrical energy at low voltage as less than 33KV in industrial purpose and 440v-220v in domestic purpose. It work at low efficiency at 50-70%, small size, easy in installation, having low magnetic losses & it is not always fully loaded.DESIGN AND FITTINGS BY REQUEST
• Double primary voltage.
• Double secondary voltage.
• Various losses / voltages.
• Connection group variation. 60Hz frequency.
• Sheet screen between HV/LV windings.
Medium powered transformers
Oil-filled transformers
Dry-type transformers
Grounding transformers
Rectifier transformer