Leakage protection equipment
Leakage prevention and measures directed towards leakage control should have the highest priority in enterprises where oil, organic solvents, alkalis, strong acids and other hazardous liquids are involved in the production process. Our company offers a wide range of tools designed for complete solution of leakage control issues. Some of the important benefits of equipment include the simplicity and reliability of instruments, high resistance to corrosive substances, and suitability for hazardous areas. A prompt use of leakage control solutions will help maintain the health of staff and avoid environmental impact in case of pipes and vessels damage.
Plugs and patches sets
Polyurethane plugs
Chlorine containers repair kits
Nonsparking tools set
Leakage emergency stop sets
Lid locking clamps
Pipe banding sets
Plugs and patches sets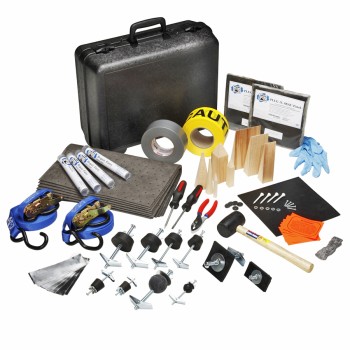 Our heavy-duty, premium-quality repair kit quickly responds to and contains leaks, and makes temporary repairs to any leaking container. The tank and railcar leak repair kit seal punctures, gashes, and cracks. This kit comes packaged in a heavy-gauge steel storage case.
For use by hazmat-trained personnel
Highest quality stainless steel hardware throughout
Now with Plug N' Dike putty
Polyurethane plugs
Chlorine containers repair kits
Nonsparking tools set
Leakage emergency stop sets
Lid locking clamps
Pipe banding sets